Navigating your wedding planning during the pandemic presents some unique challenges, and at Wedding Sites and Services one of our missions is to connect you with the pros who can help you get through this time and still have the event of your dreams. Enchanted Designs Weddings & Events loves to make your day stress free with memories to last a lifetime, and in today's blog they provide some tips and insight on planning your perfect event. Read on...
I think it is safe to say that we are truly in unprecedented times right now and the thought of planning your wedding during COVID-19 must feel overwhelming and nearly impossible. Never in my lifetime have I seen anything like this, a global pandemic that is affecting every industry. But as I have been working with couples who are rearranging their plans, postponing, and rescheduling, I thought it would be helpful to put together a list of some tips to help plan during this time.
Try Not to Panic
I know, it is easier said than done. You are feeling all the emotions, which you have every right to feel. Planning a wedding not only takes a lot of hard work, but I believe it also takes a lot of emotion. You have poured your heart into the process to plan your dream wedding and having to adjust those plans can leave you feeling defeated. But as you start to work through the process, try your best to stay calm and not panic. Lean on your vendors to help you navigate your way through this time. While this is also uncharted territory for a lot of us, we have been learning and taking courses on how to handle the changes. We want to try our hardest to make these changes as smooth as possible for you. So go grab that glass of wine, take the bubble bath or whatever it is that helps you relax and know we are here for you.
Talk with Your Partner and Plan Your Next Steps
Even throughout all this craziness, my Facebook and Instagram feed has still been blowing up with couples having their wedding at home. The statement rings true… Love Is Not Cancelled.
So, talk with your partner and decide what works best for the both of you! Are you okay with cutting your guest list down to half or more, depending on your upcoming wedding date? As the country reopens, there will be limitations on how many people can be at a gathering. Also consider how many guests are coming in from out of town. Will they be able to travel in a few months or will they want to travel? You can also consider a small elopement ceremony and then planning your larger party at a later date. But again, if that is not your ideal day, that is okay!
If you are looking to reschedule later in 2021, start talking with your vendors as soon as possible. As couples move their dates, it will affect your already booked venue and vendors and their availability. If you have a planner, lean on them during this process as well. We can assist you in opening those lines of communication with your venue and vendors to see what the next steps are in rescheduling. Keep in mind, vendors are also receiving inquiries from newly engaged couples, so the sooner you decide to make a reschedule decision, reach out to your team to start the process.
Notify Your Guests of Changes
As soon as you have a confirmed a new wedding date, you will want to start reaching out your guests as soon as possible!
You can begin with updating your wedding website. Change to your new date and give any other important information changes, such as hotel block links.
Depending on how close you are to your original date, you may have already sent out Save the Dates or your invitations. If only save the dates, go ahead and work on reprinting your invites with the new date. If they are already printed, see if you can make a little label to go over the date so you don't have to waste money on reprinting. You can also send out an electronic notification to your guests to avoid any printing costs. I have also seen some highly creative postponement cards going out to guests with the new date, a few fun ones are below!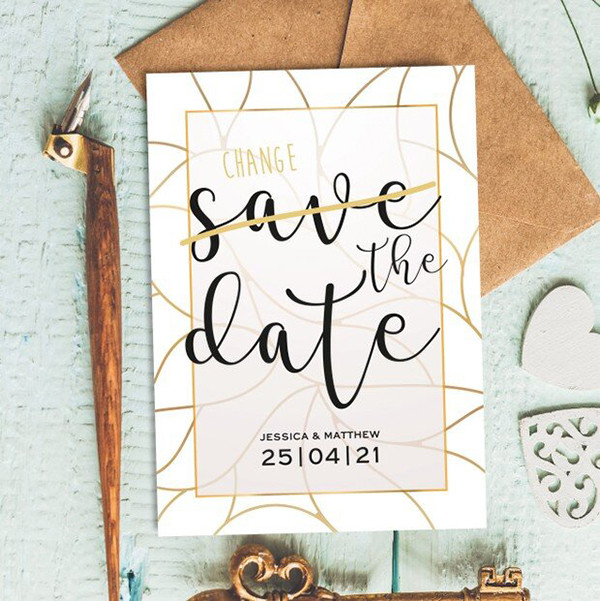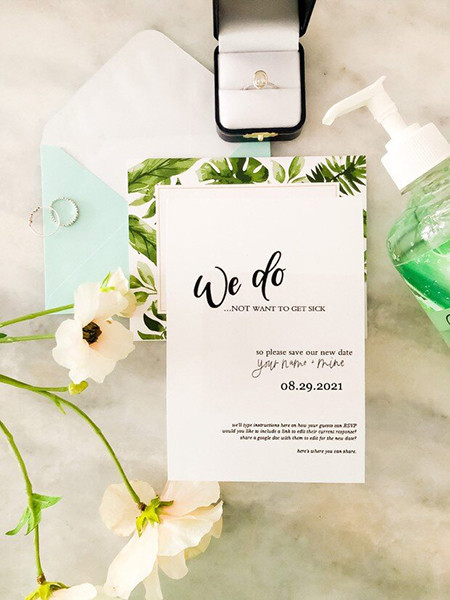 Photos by You and Your Wedding
Stay Healthy and Keep Planning
Above everything, it is important to keep yourself safe and healthy. So, use this time to keep building your relationship with your partner. You have been through a lot together! Take this time after all the changes have been made and lean on one another.
You may also have extra time to keep working on all the little details of planning. Menu cards, centerpiece ideas, personalized gifts for your bridal party. Try not to be bummed out by your original plans falling through. Keep your head high and pour your love into your new wedding plans.
No matter what, your wedding day is about you and your partner! Always remember that. And while everything seems out of our control, your love will get you through this and the celebrations will continue!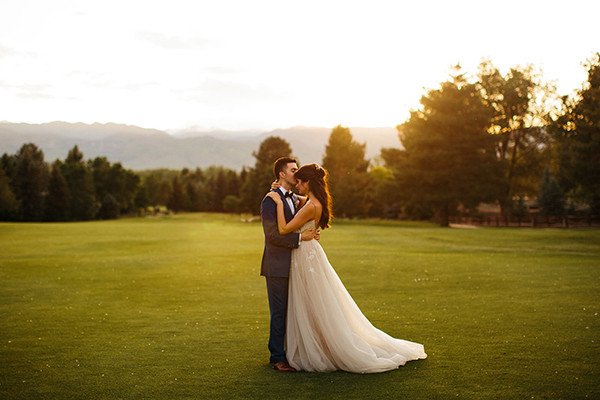 Many thanks to Enchanted Designs for this blog. For more information, please visit them here.